In 2021 marks the 100th anniversary of the birth of Viktor Vladimirovich Rovdo, an outstanding figure of choral art, People's Artist of Belarus, People's Artist of the USSR, laureate of the State Prize of Belarus. "Every person is responsible to God, to himself, to society, and he should at least from time to time ask himself the question: who am I on this earth, what am I doing, what is my soul filled with?" – said the professor. Rovdo served the choral business and saw in this service the meaning of his life.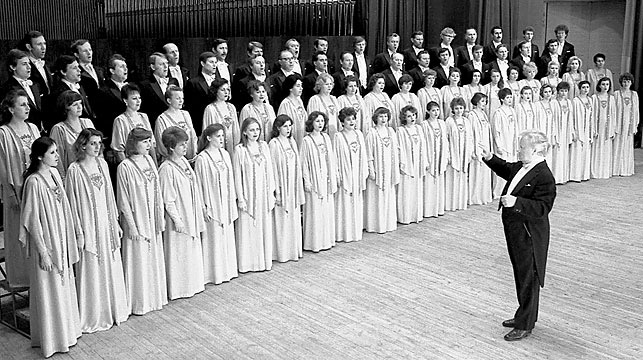 Viktor Vladimirovich received his musical education from the Lithuanian Conservatory, and also graduated from the Theological Seminary and the Faculty of Medicine of Vilnius University with a degree in surgeon. The maestro has repeatedly admitted that he is a doctor, a priest and an artist all rolled into one. He graduated from graduate school at the Moscow Conservatory and studied with the outstanding choral conductor Alexander Vasilyevich Sveshnikov.
Viktor Vladimirovich is known to us primarily as the artistic director and conductor of the State Academic Choir of Belarus, the concert choir of the Belarusian State Academy of Music, the choir of the Belarusian television and radio.
He directed all his creative energy, knowledge, experience to ensure that choirs become highly professional collectives, gain recognition and fame in Belarus and abroad. Viktor Vladimirovich toured the whole world with concerts, made sacred music the property of a secular audience.
Since 1975 – Professor Viktor Rovdo was the artistic director of the concert choir of the Belarusian Academy of Music. During his work, he has trained more than 800 choirmasters. Rovdo generously shared his knowledge with his students. Today, hundreds of his students lead church and professional choirs, sing, teach music and singing to children.
Once Viktor Vladimirovich said that love and fire are inherently synonyms – this has always been the case in his life. He dearly loved choral conducting, his work and students, parents, wife, native Smorgon. He did not tolerate falseness in singing and lack of culture. I spoke personally with His Holiness Patriarch Alexy II, Pope John Paul II. He was received by the English Queen Elizabeth II.
Viktor Rovdo died on November 18, 2007. He is buried at the Eastern (Moscow) cemetery in Minsk.
For his selfless creative work, Viktor Rovdo was awarded many prizes, including "For Spiritual Revival", medals, the Order of Francis Skorina, the Golden Oscar choral (Darmstadt, Germany), and is also a full Knight of the Order of the Russian Orthodox Church of St. Prince Daniel of Moscow.